HVAC and Electrical Services in Franklin, TN
Can you imagine even a day in your Franklin, TN home or business without access to electricity? Or how about a failed HVAC system? Most of us cannot, and hopefully you'll never have to worry about that. We don't want you to have to learn how to get by without a phone, computer, heater, or air conditioning system.
Rely on the help of the certified and trained mechanical and electrical Technicians at Covenant Heating and Cooling to get your property back on track. Whatever your HVAC or electrical service needs are, we have years of experience backing us up to help us stand by our motto of, "Dedicated to the Promise of Serving You!"
Air Conditioning Services
Our team understands that air conditioners rarely pick a "good time" to break down, and with the strain of a hot and humid Franklin, TN summer, this can mean trouble. But we've got this taken care of!
We offer emergency AC repair services so you can get your home back on track as soon as possible, and start enjoying your indoor comfort again. Speak to our highly skilled and certified HVAC professionals today to learn about your options when it comes to AC services.
We Serve the Entire City of Franklin, TN
Give us a Call or Schedule a Service Online!
Heating Installation, Repair and Maintenance
Our staff is, "Dedicated to the Promise of Serving You," as our motto says. That means we take pride in our reputation for quality customer service, and aim to please no matter what your heating service needs are.
We conduct heating repairs on all makes and models of heating systems, even gas logs! Turn to us for your furnace, ductless, heat pump, or dual fuel system issues and we'll have them resolved promptly and accurately. Contact us today to learn more about our heating services in Franklin, TN!
Improve Your Indoor Air Quality
The air filter that comes standard with your HVAC system is actually there to protect the inside components of that system from dirt and debris-it is not intended to improve your indoor air quality. Instead, you'd do well to consider the installation of an air purification or filtration system. Your household will benefit greatly from this! Contact us to learn more about our indoor air quality products and services in Franklin, TN.
Geothermal Heating and Cooling
With a geothermal system, in order to heat and cool your Franklin, TN home, heat is absorbed from beneath the surface underground, and a heat exchanger transfers heat to the refrigerant in the heat pump, where it can then be used to heat your home. This process is simply reversed come summertime, when the system can be used to cool your home.
Professional Electricians
If you already have smoke detectors and carbon monoxide detectors in your home, are they hard-wired into your electrical system? This ensures that even if the batteries die, you'll have reliable detectors in your home should you experience a fire or a gas leak. This is not the only service our electricians provide either-we offer electrical wiring and rewiring, electrical panel upgrades, lighting for residences and business, plus much more! Call our electricians in Franklin, TN to learn more about the electrical services we offer.
Water Heater Services (Traditional Tank & Tankless)
Your water heater is installed in a place out of sight and out of mind. Yet, it's one of the most important appliances in the home! It's no surprise that we can take this system for granted until the point that it needs water heater repairs. When that happens, it's going to be a bit of a crisis as your quality of life plummets. Fortunately, Covenant Heating and Cooling is your Franklin, TN expert in water heater repairs for both tank and tankless water heaters. Contact us for water heater replacement, installation, and repairs.
Variable Refrigerant Flow Systems
When it comes to choosing your VRF system, you may decide to go with one that has the heat recovery capability. This means that your system will be able to operate simultaneously in heating or cooling mode. This allows heat to be used-recovered-rather that expelled as it would be in a traditional heat pump system. We'll be happy to discuss your VRF system options with you if you have any questions!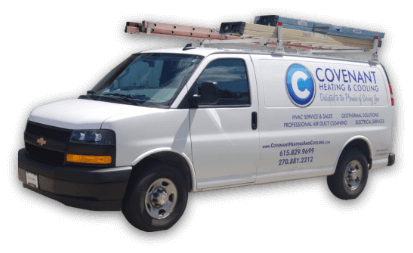 Commercial HVAC System
Every business and commercial building is different-and as a result your building will require a specific solution for heating and cooling. With our experienced commercial HVAC Technicians on your side, you'll have no need to worry-we'll ensure you're equipped with the right kind of HVAC system to handle the comfort needs of your customers, employees, or clients. We are licensed electricians and can handle any of your commercial electrical needs in Franklin, TN!
Call us Today or Schedule a Service Online!
Do we serve your neighborhood?