HVAC Contractors & Electricians in Nashville, TN
While Nashville, TN is best known as "Music City," there's no way this town could have become what it is today without the smooth operation of homes and businesses-which would be impossible without fully functioning HVAC and electrical systems. So many of our appliances and fixtures in our homes-including heating and cooling systems-rely on electricity.
You can count on the mechanical and electrical Technicians on our staff to conduct quality electrical wiring, repairs, installations, as well as comprehensive HVAC services, including full-service maintenance. Contact us today to learn more about our services and how we are "Dedicated to the Promise of Serving You!"
Electrical Services
Our company offers a wide range of electrical systems and services throughout Nashville, TN and beyond. We also provide a safety inspection during your routine maintenance appointment through our Covenant Care Plan, to make sure that your system doesn't have any risk factors. Turn to us for electrical panel upgrades, wiring and rewiring, smoke detector installation, and much more.
Air Conditioning Services
When your air conditioning system encounters a serious issue, it usually happens right when you need your system the most-right in the middle of a hot Nashville summer. When this does happen, you want a team on your side that can provide you with reliable AC repairs, and that's where we come in!
Our highly trained and certified team is the one you can rely on to fix your AC problems quickly and effectively. We're ready to go when you are-don't hesitate to give us a call.
AC Repair
When you're in need of AC repairs, or suspect that something is amiss with your air conditioner, then you need help immediately. We understand this, and want to remind you that the longer you wait to have your AC system professionally serviced when there's a problem, the greater the chance of encountering serious operational issues later is.
If your air conditioner is making ominous or unfamiliar noises, not evenly cooling your home, or has broken down entirely, then let our team know right away. We provide emergency HVAC services and quality air conditioning repair in Nashville, TN.
AC Installation
AC Installation in Nashville, TN is an important HVAC service if you are building a new home or are simply looking to replace your old air conditioner. You certainly do not want to go with out and air conditioning system in the summer months here in Tennessee. Make sure to give Covenant Heating and Cooling a call for your AC installation in Nashville, TN.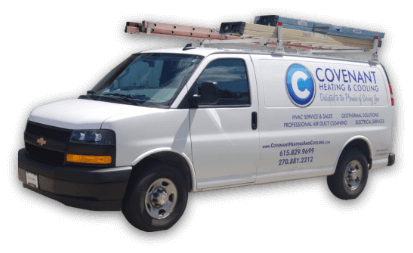 Heating Installation, Repair and Maintenance
One of the biggest signs that something is going terribly wrong with your heater is a banging or clanging noise coming from within. In the best case scenario, this will be indicative of something coming loose, and a repair may fix it.
If you find yourself constantly in need of heating repairs, however, then it may be time for a system replacement. In fact, typically we recommend that if your next repair is going to cost you half of what it would to replace a system, then you invest in the replacement. Ask us about gas logs and other heating services in Nashville, TN!
Indoor Air Quality Systems & Services
In addition to only relying on us for the professional installation of any whole-house indoor air quality system, you should only trust professionals like us for the repairs and maintenance of such systems as well. Our team in Nashville, TN has the expertise and the comprehensive training to successfully integrate your indoor air quality system with your existing HVAC system, and to ensure that it runs as effectively as possible for as long as possible.
Water Heater Services (Traditional Tank & Tankless)
Water heaters work relentlessly and thanklessly day in and day out, but you can show your water heater your care by having a team of experts perform annual maintenance on it. Water heaters actively battle corrosion, so it's essential to have it inspected annual to prevent major water heater repair issues from developing in the first place. Even tankless water heaters need proper service in order to avoid the fate of an early water heater replacement.
Geothermal Heating and Cooling
Before the installation process, our team will conduct assessments on your Nashville, TN property and surrounding land to make sure that your installation can be done safely, and also that it satisfies local rules and regulations. We also provide comprehensive geothermal replacement services if any component of your existing system should need it, in addition to repairs and maintenance.
VRF Systems
VRF stands for variable refrigerant flow. This type of system works similarly to a standard mini-split, but is much more energy efficient. This is due in part to the ability to modulate the amount of refrigerant sent through the various parts of the system. At Covenant Heating and Cooling we install, service, and maintain the Fujitsu VRF systems, and look forward to learning how we can help you with yours.
Commercial HVAC
One of the last places you want to find yourself, or any of your building's occupants want to find themselves, in the middle of a sweltering hot day is in a space without a functioning air conditioner. When you need commercial HVAC or electrical repair in Nashville, TN you can count on our team, but it's also important to know the signs of a commercial system in disrepair. This can include unfamiliar noises coming from the system, a sudden increase in utility bills, or uneven cooling throughout the home.
Call us today or schedule a service online!
Do we serve your neighborhood?