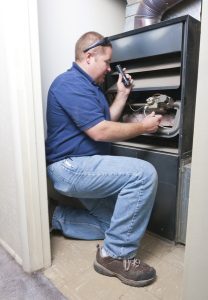 With temps still in the 90's, it may seem pretty odd to even be talking about our heating systems. But, there's actually no better time to start thinking about scheduling heating maintenance! In fact, fall is the best time since weather is usually milder and you don't have to worry about being without your HVAC system while your tune-up is performed.
Professional maintenance allows our technicians to do a thorough inspection of your heater. This is important for a number of reasons—we're able to check for safety issues as well as anything that could be causing performance and efficiency problems. We also clean the system inside and out, and check for any signs of small repair needs before they grow into bigger, more costly emergencies.
If that's not enough to convince you, keep reading to learn the many benefits of having professional heating maintenance done.
Energy Savings
As we mentioned above, during professional maintenance, our technicians comprehensively clean and inspect your heating system. This helps it to perform better, providing you with the heat that you've come to expect. Whether something is obstructing airflow or a component is coming loose, the smallest of problems can lead to performance issues that cause your heater to eat up more energy than it should. A clean system is an energy efficient system!
Increased Comfort
It probably goes without saying that an unobstructed system will keep you more comfortable too! With nothing blocking airflow or lowering the temperature of the air coming through your vents, you can rely on warmth all winter long.
Better Indoor Air Quality
Dirty ductwork can have a significant impact on the cleanliness and the health of your indoor air. A dirty heating system will allow in various allergens like dust, dirt, pollen, and other debris. A worn down heater can even let potentially harmful contaminants into your home, such as carbon monoxide, which we'll get to next.
Improved Safety
When a furnace or gas-powered heater ages, it accumulates natural wear and tear. Though rare, some of this rare and tear may present as cracked heat exchangers. These clamshell-shaped components expand and contract with the temperature fluctuations in your heating system—but when they do this enough, they can start to develop small fissures, allowing carbon monoxide to leak into your home.
This is not only bad for your indoor air quality, but it can be hazardous for the health and safety of your entire family. But during maintenance, our pros check for any potential hazards like this, giving you a peace of mind.
Longer Lifespan
When your heater is well maintained, operating as efficiently as possible, and has no repair needs, it's sure to last longer than one that goes without tune-ups. The average heating system is designed to last about 10-15 years. A system without maintenance, however, might only last half of that.
When you need reliable service for your HVAC in White House, TN, look no further than Covenant Heating and Cooling. We are "Dedicated to the Promise of Serving You!"