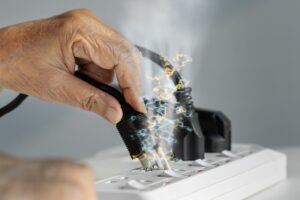 You've probably heard the phrase "whole house" a lot recently. There are whole house generators that'll keep your home powered on in the event of a power outage. There are whole house fans that'll help cool your entire house down. And there are whole house humidifiers and dehumidifiers that can help your home strike the perfect balance on the humidity scale.
If you haven't heard about whole house surge protection in Nashville, TN, well then you haven't heard about one of the most cost-effective whole house options that'll save a lot of wear and tear on every electrical item in your home. We're not just talking about your major appliances, but things like your computers, televisions, and smartphones.
Homeowners don't always realize that power surges happen in your electrical system multiple times throughout the day. That's why you need whole house surge protection. Let's go over what kinds of issues these minute power surges can cause and how you can protect your home from them.