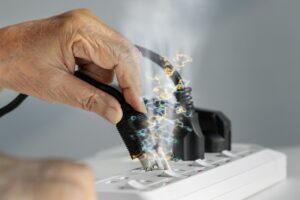 One of the biggest misconceptions about power surges is that they only occur due to lightning storms, and you really don't need to worry about them outside of storm season. Unfortunately, this just isn't true.
On the contrary, power surges are caused by and impact the electrical appliances and equipment in your home. You can have dozens of small power surges in your home a week and not even know it! And since homes have more precise electrical equipment in them than ever before, it's important to be aware of this.
You likely have multiple devices connected to your home's power supply at any time, right? You probably also have a number of charging stations to manage your family's smartphones and other devices. If you want to protect all these devices, then it's important to know what a power surge really is and how its voltage can impact your home. And before you tell us you're not worried because you have power strips in place–that's not the most ideal solution. Read on to learn more!