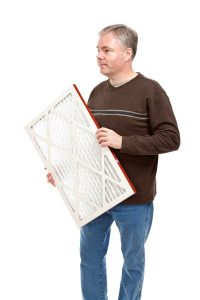 If you've followed our blog from the beginning, you've likely seen it in writing many times that we recommend you change your HVAC air filter every 1-3 months. We aren't just throwing this out as a suggestion—we are offering this advice as a way for you to get the most effective and efficient use from your heater (and air conditioner) as possible.
Considering how much we'll be using our heaters this winter, don't you want to do everything you can to prevent emergency repair needs?
There is one way to do so—by performing one small maintenance task on your own—changing out your air filter. You might be surprised by just how important this small HVAC component is. IT's about more than protecting your indoor air quality. In fact, that's not even the purpose of this air filter—your furnace's air filter is in place to protect the actual furnace itself. More on that below!