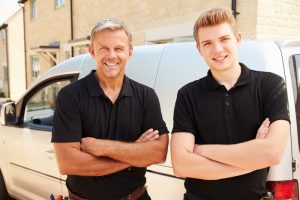 It's that time of year again—one of the two busiest seasons for HVAC contractors, as they're flooded with calls regarding air conditioning service—whether it's an emergency repair or a quick replacement. Hotter temperatures lead to inevitable equipment failures for systems that haven't been well maintained or are past their useful age.
That said, we understand that if you have an air conditioning emergency, you'll want help fast. This may lead you to choose the most affordable or more immediately available HVAC professional for the job—but this can end up being a costly mistake in the long run.
Whether this is the case for you now or you just have a potential repair need you'd like to get checked out before it grows any bigger, we have the down-low on how to find the right HVAC professional—or rather, the right HVAC company, for your air conditioning services!