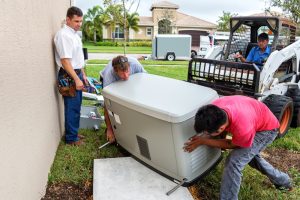 Let's start by making one thing clear–there is nothing wrong with a portable generator. In fact, portable generators are the perfect solution in many situations. For instance, if you're going on a campout and want to power up an electric grill–or you're glamping and want to watch TV (hey, we aren't here to judge!)
But the thing about a portable system is that why it's great in many scenarios, the one situation where it's not the right choice is if you want to power your entire home during a widespread power outage. In this case, you'll need a whole-home automatic standby generator. 
This system allows you to power up all the important components of your household, from your water heater and refrigerator to your HVAC systems and even your electronic devices and medical equipment if needed. Read on as we uncover 5 main benefits of investing in a whole-home generator.