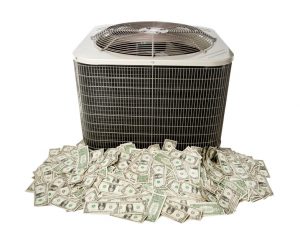 This is a question that HVAC professionals receive a lot, and for good reason. And as much as we wish we could give you a black-and-white answer, the real response is, "it depends." There are many factors that go into pricing for your Hendersonville, TN air conditioner installation.
For example, a small one bedroom apartment is, of course, going to have different sizing needs than a 4 bedroom, 2-story house. This is just merely part of what goes into pricing an installation, however. Keep reading for a more detailed answer.
Sizing
We'll tackle sizing, first. As mentioned above, different homes will have different sizing needs. However, it's not just the square footage of the home that needs to be considered. When our HVAC professionals conduct what's called a cooling load calculation, they are going to look at a number of factors.
This includes how many windows and doors you have, how high your ceilings are, and even if you have appropriate weather stripping and insulation. You may need a less powerful system than you think you do, and too powerful can cause a number of problems when it comes to system operation and efficiency.
Efficiency
Speaking of efficiency, this is one of the biggest factors to consider when you're looking to have a new cooling system installed. Each AC system comes with a SEER (Seasonal Energy Efficiency Ratio) rating, which tells you its level of efficiency.
While the highest rated systems are of course going to run the best, you want to make sure the system you choose is well matched to your budget and your home—which our team is more than happy to assist you with, so you can make an educated decision.
Air Ducts
If you already have a central air conditioner in place, or your home had one at some point, then you have ductwork already installed in your home. But is it in good shape? If your air ducts are leaking or otherwise damaged, then no matter how efficient of an air conditioner you get, it won't be able to perform efficiently, costing you unnecessary money in energy bills.
So, you'll want to consider having your ductwork sealed and/or repaired before investing in a new cooling system. Or you may consider going ductless and purchasing a ductless mini-split air conditioner. Either way, your decision is going to impact the cost of your AC installation.
Community Rebates
In many municipalities and communities, the Nashville area included, there are homeowner financial incentives available for those who choose to have high-efficiency equipment and appliances installed in their home. By making this type of investment, you not only save yourself money, but you help your community by conserving valuable energy and helping out the environment in the meantime.
At Covenant Heating and Cooling, we are dedicated to the promise of serving you! We're happy to help with any questions you may have regarding costs, and can give you a more accurate idea of what you can expect once we go over a few factors with you—contact us today!