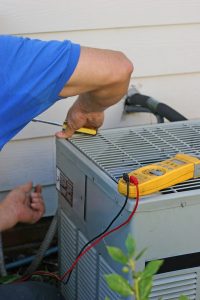 We are officially in spring, and with warmer temperatures already upon us, Nashville residents are reminded of just how hot and humid it gets around our parts. We also know that summer weather will hit in just a couple months, and will hit hard, putting our air conditioning systems under immense amounts of stress.
If you want to avoid this air conditioning repair in Nashville, TN year, then the time to schedule maintenance—if you haven't already—is now! Maintenance involves a thorough system inspection, comprehensive cleaning, and the adjustment of any components that need it. Plus we'll alert you to any small repair needs so you can schedule those right away.
"I Had It Done Last Year, Do I Need It Again?"
Well, yes. You could skip it, and your air conditioner might work all summer without breaking down, however we highly recommend having this service done once a year if you want to receive the best performance and most cost effective operation from your air conditioner throughout its service life. But what are the benefits?
Protection from System Failure: The worst issue you could face with your cooling system is for it to just quit working when you need it the most. If your AC system doesn't have maintenance before the summer heat arrives, it will be at a much higher risk of breakdown when stress is placed on it, such as during a day of intense heat. Maintenance essentially armors your air conditioner against catastrophic failure, plus gives you a peace of mine.
Reduced Repairs: This ends up saving you money and convenience. You may be surprised to find this, but you can actually prevent 85% of the repairs your cooling system might need over its lifespan just by having maintenance done each year. This is because maintenance keeps away the vast majority of common repair troubles.
Longer Equipment Life: If you want the best return on investment in your cooling system, then it needs to be able to give you many years of effective service. The average lifecycle of a central air conditioner that receives routine maintenance is about 15 years. But this number drops to 8 years without maintenance, which is clearly a pretty big difference!
A More Efficient System: The energy efficiency of an AC system is the measurement of how well it converts electrical power into cooling output. This measurement is called SEER (Seasonal Energy Efficiency Ratio) and generally speaking, the higher SEER, the less costly in general the AC will be to run. Routine maintenance stops your AC system's SEER from quickly declining.
Cleaner Operation: An important part of maintenance is the thorough cleaning our technicians will give your AC system. This helps prevent the air conditioner's inside components from getting weighed down with too much dirt and debris to effectively do its job, and helps your indoor air quality as well.
Protects the System Warranty: For most air conditioning systems, the manufacturer's warranty will only remain valid if the cooling system receives professional maintenance each year.
At Covenant Heating and Cooling, we are dedicated to the promise of serving you! Contact us today for exceptional HVAC services.