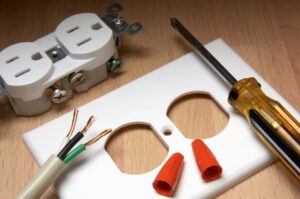 Is it time to upgrade your older electrical panel so your system can handle more demand? Or perhaps you suspect that your home needs rewiring in certain rooms, or throughout the whole house. Whatever your Hendersonville, TN electrical needs are, the most important thing to keep in mind is that jobs of this caliber require a professional touch, quite literally.
After all, we're sure you want someone with the right amount of training, expertise, and licensing to get the job done right. But how do you know what you're getting when you hire an electrician? Do you know the qualities to look for in an electrical pro? Fortunately for you, we have listed some guidelines below to help you make an educated decision when it comes time to hire an electrician. Read on!
Do They Behave Professionally?
It's one thing to call yourself a professional, but another to actually be a professional. For any type of service person you hire, you should be able to reasonably expect how they'll behave in your home, during your appointment, and even before your appointment.
They should provide you with timely responses to any concerns or service requests you have, and communicate with you clearly. They should have no trouble showing up for their scheduled appointments, and be courteous about your time and your home when doing so.
What Do Their Credentials Look Like?
When you hire an electrical pro, it's important to look at their credentials. A reputable electrician, after all, will have the appropriate licensing, and will be bonded and insured. Take care in choosing an electrical contractor who only hires true professionals, with extensive and ongoing training, and who are properly equipped for whatever electrical job is asked of them.
Are Other Customers Saying Positive Things?
There is a lot to be said for word-of-mouth advertising. What are your neighbors saying about the electrician you're considering to do work in your home? It's never a bad idea to go with a company that is consistently receiving positive reviews.
This way, it will be much more likely that you'll be satisfied with the level of work they provide, and chances are higher you'll be satisfied with the final product, too. Reading or hearing what past customers have said is one of the best ways to ensure they are the best fit for you.
Do They Provide Electrical Maintenance?
If you want to ensure not only the comfort of your home and family, but also their safety, then you don't just want to find some general handyman or "one-and-done" electrician. That is, you don't want an electrician who will just come do your requested installation and call it a day.
They should be willing and able to conduct an inspection, first off, to ensure that your current electrical system can handle the installation. And more than that, they should provide annual maintenance to fully inspect your electrical system closely, and make recommendations for any necessary services.
At Covenant Heating and Cooling, we are "Dedicated to the Promise of Serving You." Contact us today for exceptional electrical services and more!