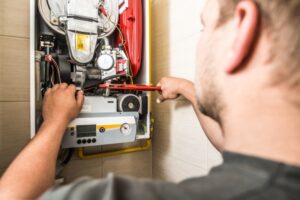 It makes sense that when you hire a professional, you want to trust the person or the group of people who will be in your home. You need to know that they will treat your living space with respect, and that they can be reliable. Anyone can say that they will be, and anyone has the capability to be friendly, but you really want more than that, especially when it comes to dealing with your electrical needs.
Not only do you have to keep your home's functionality in mind, but also the safety. This is why, when you need electrical work done, it's so important that you contact a trained and experienced electrician, such as the folks on our team! Whether you contact us today or not, however, we want to provide some guidance for you so that you can know everything you should before an electrician comes through your front door. Below are some of the questions we recommend you ask your electrician.
"Are You Licensed and Insured?"
First, you should know whether or not your contractor is properly qualified to do the electrical work you need, in your area. Licensure and insurance don't protect only the electrician, it protects you as well, financially. If an electrician were to get injured in your home due to no fault of you or your family, you want to ensure that they are covered.
Additionally, if something goes wrong with the job, you know that a licensed and insured electrician will make it right, whereas you can't really rely on that with an amateur.
"Will This Job Require a Building Permit?"
Folks often complete or get close to completion of a remodeling job, only to discover that they were supposed to have a building permit for the task at hand. Most municipalities do require a building permit if there is electricity running out to the section of the home you're adding on.
This isn't true in all cases, but it is in many. Only an experienced electrician will be able to adequately guide you toward what's right for your specific home and task.
"Do You Have Experience Doing This Kind of Work?"
Just because someone's electrical work before doesn't mean they're experienced in all types of electrical work. For instance, installing an entertainment center is a lot different than, say, upgrading an electrical panel and ensuring it is matched to the electrical capacity of your specific living space.
"Is This a Long-Term Fix for My Problem?"
This is a very important question to ask your electrician. If they're coming in to replace some frayed wiring, are they just replacing that one wire, or are they inspecting your entire electrical system? If a circuit breaker tripped, are they just rearranging where the wiring is routed to, or are they upgrading your electrical panel to a higher-capacity one?
The last thing you need is to have to call an electrician again in just a month or two.
Covenant Heating and Cooling is your trusted resource when you need a professional Gallatin, TN electrician!
Contact us today.