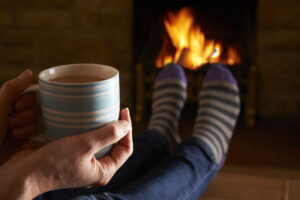 There's just something about a fireplace that brings a type of ambiance and coziness you won't find in any other type of heating system. For homeowners who want to increase their home's aesthetics while also adding a valuable source of heat, consider a ventless fireplace. These can be easily added to just about any home even if you don't have a chimney.
We install a wide range of Superior Fireplaces® Vent-Free gas logs. Also known as ventless fireplaces, these gas logs are a safe way to provide an additional heat source while creating the unbeatable feeling that comes from gathering around a fireplace. Read on to learn the benefits of ventless fireplaces.
How Do Ventless Fireplaces Work?
Ventless fireplaces use natural gas to create a source of heat. They don't need a chimney or ventilation system. Simply flip a switch to ignite the pilot light and voila! Instant warmth and ambiance. Ventless gas fireplace inserts can be used in existing fireplaces, or they can be installed as standalone units. They're also perfectly safe because they don't produce combustion products such as carbon monoxide or water vapor.
Vented Vs Vent Free
Vented gas logs are another option. However, these must be burned in a wood-burning fireplace and must be burned with the damper open. While vented gas logs may be a viable option for some homes, most of the heat using these types of gas logs will be lost through the chimney, making them not very efficient.
On the other hand, vent-free gas logs distribute 99% of their produced heat into the room they're located in. They also contribute less pollution into the air than vented gas logs and consume less gas.
The Benefits of Vent-Free Gas Log Fireplaces
Nothing can beat the experience and warmth of a fire in your gas fireplace, but what about the costs and the mess? Traditionally, you would have had to go out and get firewood, and consistently feed it into your fireplace. You'd run the risk of running out of firewood before winter was over, and potentially be stuck in the cold.
When you enjoy a vent–free gas log fireplace though, you get adequate and reliable heat all season long. There are many varieties to choose from to achieve just the right look and feel in your home. You can choose from options such as ceramic fiber logs, mixed oak, giant timbers, townsend bark, vintage oak, and more.
Factors to Keep in Mind
When using any gas-powered appliance or system, it's important to be aware of the risk of carbon monoxide exposure. Today's vent-free gas logs are built to prioritize safety and are equipped with oxygen depletion sensors that automatically switch off the flow of gas when oxygen levels drop to a certain level. That's why it's imperative to have carbon monoxide detectors installed in your home for optimal safety.
Covenant Heating and Cooling is your trusted resource for ventless gas log installation in Brentwood, TN. We are "Dedicated to the Promise of Serving You!" Contact us today.