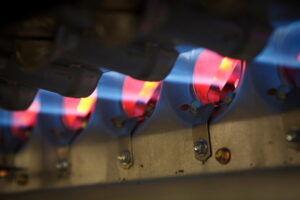 This blog post also could have accurately been titled, "How to Ensure Your Gas Furnace Operates Safely." That said, we aren't insinuating that gas powered furnaces are inherently dangerous. We're not out to incite panic among homeowners. However, not taking care of your gas powered furnace could potentially make it dangerous.
What we mean by this, is that you have to have it professionally maintained each year. Professional maintenance allows our technicians to comprehensively clean, adjust, and inspect each and every component within your system to ensure that nothing is out of place or showing signs of wear. One component in particular is especially important here—the heat exchanger.
Damaged heat exchangers aren't common, and they are most likely to occur in aging furnaces—furnaces that are 15 years old or older. This doesn't necessarily mean you won't have this problem with a new furnace, but it is something to keep in mind. If your gas furnace is more than a decade old, it's time to explore its potential risks—and a cracked heat exchanger could be one of these risks.