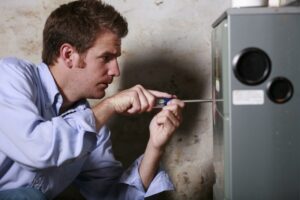 With proper maintenance, your furnace will last 15-20 years. But over time its performance may slow down. Changes can happen so gradually that you may not even notice the signs that you need to upgrade your furnace.
It's important to upgrade your furnace before it stops working completely. You don't want to be stuck in the winter scrambling for a furnace replacement. We know that the decision to replace your furnace is a big one – and it can be expensive.
We are here to help with five signs that your furnace may need replacing soon. If you have questions, give our team a call for an in-home consultation and quote. Planning ahead can help you feel more prepared when the time does come to replace your furnace. 
Age of Your Furnace
Once your furnace reaches about 15 years old, it's time to begin planning for replacement. It may last six more months, or it may last five more years. It's important to keep in mind that with age your furnace is less efficient at warming your home. You may be spending more on energy use than you realize. If you notice that your utility bills creep up year after year, an older furnace may be to blame.
Need for Repairs
Are you paying for repairs year after year? Even minor repair costs add up over time. Common furnace repairs include:
Thermostat replacement
Clogged filters
Changes in the pilot light
Heat exchanger cracks
Broken or malfunctioning blower belt
Less air movement
Rattling sounds
Even if you can afford the repairs, it's time to think about replacement. Eventually, you may face a repair that is more costly than a complete furnace replacement. With a new furnace, you'll receive a warranty and won't have to worry about repairs for many years to come. Plus, a new furnace runs with more efficiency.
Noisy Furnace
Is your furnace making noises when it turns on or runs? You may grow used to hearing noises from your furnace, but that doesn't mean they are normal. Your furnace should never:
Bang
Grate
Hum
Rattle
Screech
Squeak
Squeal
If you hear questionable sounds coming from your furnace, get it checked out right away. Unusual sounds are a sign that your furnace needs repair or replacement by a professional. Ignoring these signs can cause more damage to your furnace.
Changes in Airflow
Is your furnace blowing cool air? Is the airflow significantly weaker than it was previously? Don't settle for an "OK" furnace that isn't serving your needs. While a new furnace can cost a lot up front, it may save you money over time. A poorly working furnace is running up your energy bill whether the airflow is good or not.
More Dust in Your Home
You may not make a connection between your furnace and the dust in your home. Yet an older furnace can continue to cycle dust instead of eliminating it. This particular issue may be your furnace or your ductwork. If you have a professional check out your concerns, they can pinpoint the problem and recommend a solution. In some cases, a furnace repair or furnace upgrade may help, or it may be time for a complete furnace replacement.
Covenant Heating and Cooling is your trusted resource for heater repair in Nashville, TN. Contact us today!