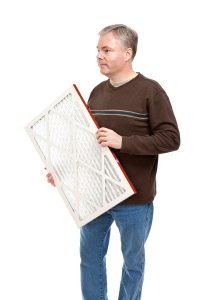 When it comes to annual heating maintenance (or biannual, if you have a heat pump), you want to ensure that you hire a professional for the job. But there are a few small maintenance tasks that you can, and should, do on your own in between tune-ups that can and will make a huge difference for your heating system. One task is changing your air filter.
You might assume that the only reason a dirty air filter is a problem is because it allows the air to get contaminated. This is actually not the case, however. While a dirty enough air filter can eventually impact your indoor air quality, its intended purpose is to block particles from damaging the inside of your Nashville, TN heating system by pummeling it or jamming the fan. But when your air filter is dirty and too clogged, it can do just as much damage. Keep reading to learn a few ways changing your air filter impacts your heater.
It Improves Comfort
The air filter in your heater may seem like a very small component of your heating system, but looks can be deceiving. The filter rests between the intake air and your HVAC system. So, a clogged filter will prevent air from circulating through the vents.
In other words, you won't have enough air to actually stay warm from your heater. When you have hot or cold spots throughout your home, or when the temperature never seems to match the thermostat, a clogged air filter can certainly be the culprit. And discomfort is just the beginning.
It Helps the Heater Work More Efficiently
The blower fan of your furnace or heat pump has to work a lot harder to try to bring in the right amount of air, when a clogged and dirty filter blocks airflow. Changing your air filter on a regular basis is one of the easiest ways to improve efficiency, and subsequently lower your monthly heating bill.
It Prevents Damage to Your Heater
The fact of the matter is, your home comfort systems are designed to take in a certain amount of air each time they cycle. When your airflow suffers, the components of your heater have to work a lot harder in order to do their jobs. This means you can expect a lot of wear and tear over the season—and your heater might fail right when you need it the most.
Air filters do come at a price, naturally, and the less expensive ones have to be changed more often, but this cost is minimal compared to the inconvenience of having a heating emergency and needing to call in a heating professional ASAP. Changing your air filter on a regular basis, and scheduling annual preventive maintenance with our team, is the best way to make sure that your system lasts a long time with as few problems as possible.
Contact Covenant Heating and Cooling today to schedule your next maintenance appointment, and learn how we're "Dedicated to the Promise of Serving You."