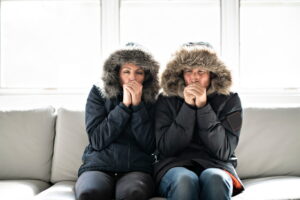 You're having issues with your furnace and you're not sure what to do about it. It's working, but not working well. When deciding whether it's time to call for furnace repair in Brentwood, TN, there are a lot of reasons why homeowners hesitate. They're not sure that the problem requires a timely repair or they could be worried it's due for a replacement.
When it's not something major like your heater not turning on, it's easy to ignore the subtle signs that your furnace's performance is suffering. Let's go over the factors that are usually taken into account when we're determining if your furnace would be better off getting repaired or being replaced. Hopefully, that'll eliminate any fears you have when contemplating scheduling service.
Repairs Are Always an Option
Homeowners shouldn't feel any pressure when presented with options for their ailing furnace. It's always up to the homeowner to make the decision that they feel is best. But sometimes it can be hard for homeowners to see that multiple repairs that are essentially band-aid fixes are poor investments. Sometimes it's more cost-effective to invest in furnace replacement. So how do you know when it's better to go with a repair vs replacement?
Luckily, there's an easy rule to follow to determine this. This rule is called the $5,000 rule and it's easy to figure out. If you have an estimate for a repair, multiply the cost by the age of your furnace in years. If the total exceeds $5,000, you're better off replacing your furnace. For example, if the estimated repair is $400 and your furnace is 9 years old, $400 x 9 is $3600 which means you should go with a repair.
System Age
The age of your system not only helps you figure out the $5,000 rule, but it's also the best indicator of when it should be replaced. Gas and electric furnaces typically last 10–15 years with electric furnaces being more likely to reach the end of that lifespan (and sometimes they'll exceed it). If your furnace has reached the end of its lifespan, you can be thankful that it lasted so long while realizing it's time for a replacement. 
Household Changes
Families change over time. Kids grow up and move out of the house and older family members move in. If your family has expanded or decreased over the years, upgrading your system to accommodate these changes is always a good idea. You may find that an entirely different type of heating system would meet the needs of your household better. For example, if your household has decreased, a mini split system that heats specific rooms of your home might be the better option.
Home Investment
What are your long-term plans for your home? Do you plan to keep it for a while or do you intend to sell it in the next couple of years? If you plan on living in your home for a while, upgrading your furnace to one that'll meet your needs for the years to come is a great idea. Or if you plan to sell it, making do with repairs might be the better choice. That way, you can let the next homeowner decides what's best for their family.
Covenant Heating and Cooling is your trusted resource for furnace repair and replacement. We are "Dedicated to the Promise of Serving You!" Contact us today.