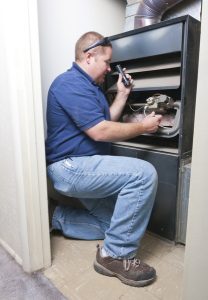 It's almost Thanksgiving and the biggest shopping day of the year is just around the corner! You've probably got some ideas in mind on how to treat yourself. But what if you treated your home to the gift of heating maintenance this holiday season? Not to make it sound as if routine maintenance is the same as a big-ticket item–it's actually quite reasonably priced.
It'll seem even more reasonable when you consider you're making an investment in the daily performance and long-term functionality of one of the most important systems in your home: your HVAC system. To ensure your heater rises to the occasion and keeps your family and guests warm and toasty this holiday season, schedule heater maintenance for your Brentwood, TN home.
There are some basic tasks you certainly can and should be taking care of yourself such as:
Replacing your air filter
Keeping the area around your furnace clutter-free
Making sure the vents aren't blocked
However, a heating tune-up is not the type of job that you can handle on your own and should be left to a qualified technician. Look at it this way: you might be able to change your car's oil yourself, but those 30K/60K/90K mile tune-ups are too much for a layman.
Why Do I Need a Heating Tune-Up?
To use the car analogy again, imagine how poorly your car would run if you didn't get the oil changed or schedule tune-ups. Routine maintenance is the key to ensuring that your heater is operating at peak performance and efficiency.
Your heater works hard to keep you warm and cozy during winter, and all that hard work results in some unavoidable wear and tear. Allowing that wear and tear to go unchecked will cause your heater to lose its efficiency and could lead to potentially major repairs down the road.
What Happens During Heater Maintenance?
Quite a lot, actually! Routine maintenance ticks all these important boxes:
Deep clean the system
Change the air filter
Lubricate all moving parts
Test components such as the system controls and thermostat for proper function
Tighten electrical connections
Check voltage and amperage for safe and proper levels
Assess and clean the condensate drain pan and assembly
Check for the proper functioning of all components
How Maintenance Helps Your Safety
During a tune-up, we'll assess any potential safety hazards. We'll evaluate and clean all oil/gas connections, burners, and heating elements as needed. We'll also check to make sure that no harmful gases are leaking from the heat exchanger or the combustion chamber. The best way to ensure the safety of your family and your home is through regular heating tune-ups.
With the holiday season upon us, now's the ideal time to schedule a tune-up. We're not quite as busy as we'll be with emergency repairs later in the season (often for heaters that haven't been maintained properly). And you'll ensure that there are no hiccups with the warmth and comfort of your home during the holiday season.
Covenant Heating and Cooling is your trusted resource for heating maintenance for your Brentwood, TN home. We are "Dedicated to the Promise of Serving You!" Contact us today.