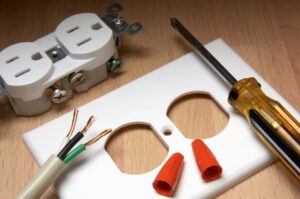 Today's homes are filled with smart technology devices and appliances that are meant to enhance and simplify our modern lives. However, the electrical panels in most homes aren't always able to meet the demands of 21st-century technology devices.
What does this mean exactly? Well, it means that most homeowners aren't aware that their home's wiring could actually be damaging those essential, expensive devices we've come to depend on. Here are 3 statistics that should give you cause for pause.
According to the National Electrical Manufacturers Association (NEMA), up to 80% of all surges originate from inside a building
Surges generated from devices within a house occur up to 100 times per month
The typical US home has up to $15,000 worth of surge-sensitive electronics
When you add all this up, it means that small power surges occur in your home much more often than you realize and that they're draining the life out of items in your home such as:
Cell phones, laptops, and computers
Smart TVs, speakers, and sound systems
Refrigerators, ovens, dishwashers, and washers and dryers
HVAC systems
Alarm systems, thermostats, and smart bulbs
What About Surge Protectors?
You're probably thinking that you could just make sure these devices are plugged into surge protectors. Although this might seem like an easy solution, many smart devices such as large appliances and thermostats can't be plugged into surge protectors. Power strips are only one layer of protection. To combat these frequent electrical surges–and guard against potentially huge spikes from storms–you need whole-house surge protection.
What is Whole-House Surge Protection?
Our professional electricians can install one of these directly into your home's electrical panel where the electricity from the grid enters your home and divides it into individual circuits. A whole-house surge protector on the panel will send excess voltage down into the ground rather than into the electrical system. This prevents spikes and surges in voltage from reaching the rest of the appliances and electrical equipment in your home. It can also handle extreme surges from storms or power plant issues.
Why Do I Need It?
In a nutshell, you need it to protect all the smart devices your home is filled with and to extend their lifespans. Some power surges can present enough strength to contribute to severe damage, if not destroy, electronics. Surges occur regularly, wearing down and shortening the life of electronics and appliances.
Isn't That What Homeowners Insurance Is For?
Sure, if you did have a major power surge that destroyed your high-priced items, you could file a claim with your homeowner's insurance. But why not avoid that major headache altogether by considering whole-house surge protection in your Henderson TN home.
Can I Install One Myself?
This is definitely not a DIY job. Only a certified and highly trained electrical technician should be tasked with a job like this. Our team of professionals knows just how to approach this kind of installation to guarantee your safety and the safety of your home.
When you need a professional electrician, look no further than Covenant Heating and Cooling. Contact us today. We are "Dedicated to the Promise of Serving You!"