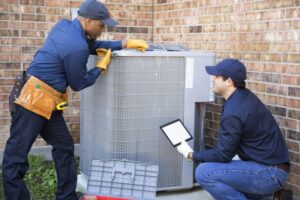 Many of us love to take on DIY projects or handle fixing issues around the house ourselves. Some people do it to save a few bucks. While others do it because they like the challenge of learning the skills and the accomplishment of a job well done. However, there are certain things you need to rely on an expert for, especially when it comes to AC installation in Hermitage, TN.
In this article, we will discuss some of the problems and pitfalls that you'll come across when trying to install an AC system yourself.
Why DIY AC Installation Is a Bad Idea
Below are some reasons why it's best to call a professional to install your AC unit:
There Are Increased Safety Risks
Any air conditioner is a complex system that involves electricity and chemicals that can be harmful if you don't have the expertise to handle them properly. For instance, improper wiring could lead to accidental electrocution or an electrical fire. The same thing goes for the refrigerant chemical used in the unit that requires a trained person to handle–exposure to this substance can have adverse effects on your health.
Leaving behind the risks, you also run the risk of cuts or bruises if you drop or handle certain components wrong.
You Could Size the Air Conditioner Incorrectly
Another problem that often comes up in DIY air conditioning installation is incorrect AC sizing. The main issue is there cooling load calculations are off, which leads to issues such as poor temperature control, short cycling (turning on then quickly turning off), or continuously running because the unit can't get the job done. However, a trained professional knows exactly how to calculate the size correctly the first time.
You Don't Have the Right Tools and Equipment
It takes more than a screwdriver and hammer for this job. It will require many components that need to be hooked up correctly and there will be ductwork that needs to be connected to the new system. Plus, you won't know if the AC unit is running as efficiently as it should be because there are special tools to test the unit's energy usage.
You Could Damage the Unit or Your Air Ducts
If you're doing the installation yourself, you also risk doing damage to the ducts or the unit itself. The complexities and the size of the job open up more opportunities for something to go wrong. It could lead to the entire unit not working, meaning you'll likely end up calling on a professional and spending money on a new system.
You Won't Have a Warranty or Guarantee on the Unit or Work Done
Another benefit of relying on HVAC specialists is their work and machinery come with a warranty. That means if something is done wrong or the unit malfunctions, they will come and fix it for you. However, if you do it yourself, you won't have that peace of mind and will have to come out of pocket for any problems that come up.
So, avoid all of these issues and call a professional when it's time for a new AC or an upgrade.
We are "Dedicated to the Promise of Serving You" here at Covenant Heating and Cooling. Contact us today!