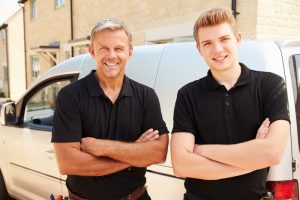 It's that time of year again—one of the two busiest seasons for HVAC contractors, as they're flooded with calls regarding air conditioning service—whether it's an emergency repair or a quick replacement. Hotter temperatures lead to inevitable equipment failures for systems that haven't been well maintained or are past their useful age.
That said, we understand that if you have an air conditioning emergency, you'll want help fast. This may lead you to choose the most affordable or more immediately available HVAC professional for the job—but this can end up being a costly mistake in the long run.
Whether this is the case for you now or you just have a potential repair need you'd like to get checked out before it grows any bigger, we have the down-low on how to find the right HVAC professional—or rather, the right HVAC company, for your air conditioning services!
Extensive Experience
Some homeowners are too quick to call in any "handyman" with a little bit of experience in electrical and mechanical work to service their air conditioning system. However, we can almost guarantee that if this is you, you'll regret it. Complex HVAC equipment is difficult for even a skilled generalist to handle, and you'll most likely have to end up calling in an experienced professional anyway if and when something goes amiss.
Additionally, and perhaps most importantly, safety comes first! The only type of HVAC technicians who can ensure that safety are those who have been thoroughly trained by a qualified heating and air conditioning contractors. You'll certainly get that from an experienced company with significant expertise in your community.
Comprehensive Services
There are HVAC companies out there that will go after one thing—either HVAC sales, or services. There are many benefits to choosing a company that provides both installation and repair. Without this, you can end up with a quality system, but improper installation or maintenance from another company that will end up negating that high-quality system you just purchased.
Additionally, HVAC technicians on their own are required to have some level of electrical training, and you can almost always count on safe work from a qualified and licensed HVAC professional—we wouldn't want to lead you to believe otherwise. However, choosing a company that also offers extensive electrical services means you're choosing a company who will always see the bigger picture.
What we mean to say is—a lot can go wrong with an air conditioner—and there are a few different symptoms that could show up with multiple diagnoses. For example—short-cycling can happen because your installed air conditioner is too large for your home, or it can occur because of a bad electrical connection. While any HVAC pro will eventually figure this out, one with an extensive electrical background will discover the problem and solve the problem sooner.
When you need a pro to service your HVAC in Franklin, TN, look no further than Covenant Heating and Cooling, where we are
"Dedicated to the Promise of Serving You."