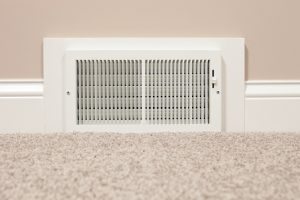 When it's the middle of summer, the last thing you want to deal with is a cooling system that isn't–well–cooling. Not only can it be uncomfortable, but it can be unhealthy, especially for small children and the elderly. So naturally, you want to find a solution to this problem and find it fast so it can be repaired. Fortunately, all you need to do is give our team a call for help!
There are a number of different reasons that a cooling system might not actually be cooling, which we'll get into below. Remember, if you suspect a problem with your air conditioner, and it's not something you can resolve on your own after reading this post, the best thing you can do is give our pros a call.
First Thing's First: Check Your Thermostat
One of the most frequent repair calls we get is about this problem—a cooling system that won't cool. And this might seem obvious, but the first thing we ask our customers to do in this case is to check their thermostat. The thing is, an air conditioner problem might not actually be a problem with the system at all.
Someone in your home may have unintentionally turned the thermostat up a few degrees, or they might have even done it on purpose if they have a different level of comfort than you do. It may even be that your AC system got switched to "fan-only" mode, and will only circulate air rather than cooling it.
Next, How's Your Air Filter Faring?
Many homeowners think that the air filter inside their HVAC system is in place to protect their indoor air from contaminants. While this filter does catch particles as the air conditioner works to pull hot air out of your home, this air filter is not actually intended to protect your home's air quality, but rather the interior components of the air conditioner itself.
If the air filter gets too clogged up, it won't allow the right amount of airflow through, and the hot air will essentially stay in your home.
Your Evaporator Coil May Have a Problem
The issues you're facing may be due to a frozen evaporator coil. This component is the part of your air conditioner where heat is drawn from the air and cooled down. Sure, it may seem like ice is a normal part of this whole process, but we promise it isn't.
This ice actually blocks the coil from absorbing heat. The ice can be the result of low refrigerant due to a leak, or it could even be due to too much dirt and grime that has collected on the coil. The best way to prevent this issue is with routine maintenance—and after the fact, the best way to resolve it is by contacting a trained and experienced professional. Trying to remove ice or clean an evaporator coil yourself can lead to more damage than you started with.
Avoiding Problems with Your Cooling System
These are just a few of the possibilities that could lead to an air conditioner that won't cool. Other potential problems include a failed compressor motor or even a broken condenser fan—both of which are pretty serious—in fact if your compressor completely fails it's often more cost-effective to replace the entire air conditioner!
The best thing you can do for your AC system, as we alluded to above, is to schedule routine maintenance—once a year for a standard air conditioner and twice a year for a heat pump.
At Covenant Heating and Cooling, we are "Dedicated to the Promise of Serving You." Contact us today for reliable air conditioning repair in Franklin, TN!