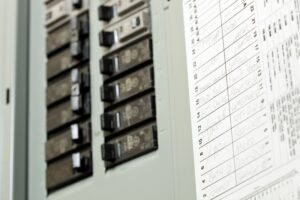 Let's say you're watching a really good TV show, or maybe you're in the bathroom blow drying your hair in preparation for an evening out, and then suddenly your power goes out. You go to resent the circuit breakers, and that resolves the problem, but it's only a short time later that the problem happens again.
This isn't something you should ignore. Your electrical panel is there to route electrical current, but also to stop electrical current if there is too much, as it can cause problems such as power surges that take out all your appliances over time, and even electrical fires which can be quite dangerous.
It's important to know the signs of trouble with an electrical panel, and to give us a call when you notice any symptoms of a problem. Read on as we uncover more about why the electrical panel in your home is important and what signs to watch out for that can indicate it's time for a new one.
The Importance of Your Home's Electrical Panel
Not all that long ago, households were equipped with fuse boxes. Whenever a power surge or electrical problem occurred, the impact fuse would burn out, and require replacement. Thankfully, we've evolved from fuse boxes to much more convenient electrical panels. These electrical panels save homeowners money since they don't have to replace fuses whenever there's a problem, and they reduce the risk of an electrical fire.
The electrical panel in your household is meant to protect your electrical system and the appliances connected to it from problems like power surges or electrical shorts that can cause damage. Rather than excess electricity flooding your appliances and electronics, a professionally installed and serviced electrical panel is able to manage the extra energy by flipping a switch (a circuit).
Know When It's Time for An Electrical Panel Upgrade
Ideally, your home is no longer using a fuse box and hasn't been for some time. If it is, then now is definitely the time to upgrade to an electrical panel. Also called your circuit breaker box, electrical panels are equipped to handle the increased electrical demand homes today are facing in a way that a fuse box simply cannot.
But aside from having a fuse box in place, what are the other signs that it's time for an electrical panel upgrade? Read on to learn!
Your Current Electrical Panel is Over 20 Years Old
The electrical demands we place on our homes these days is vastly greater than the demand placed on homes 20 years ago, or even 10 years ago for that matter. A panel installed back then might not be able to handle all the electrical demands your home currently has, particularly if you've added computers, TVs, entertainment systems, charging devices for smartphones, etc.
Frequently Tripping Circuit Breakers
We mentioned this one above. When there is a power surge, your circuit breakers will trip. People often think that power surges only happen when there is stormy weather, but the truth is that most power surges come from the powerful appliances or electrical equipment already in your home. A big culprit is your air conditioner, or your heating system.
If you find that you have to reset circuit breakers pretty often, then it's time to give us a call. To give you a sense of what's normal–if you have to reset a breaker every couple of years, that's not typically cause for concern.
Flickering Lights
We might be in the "spooky" season, but no, your house probably isn't haunted if you notice flickering lights. A more plausible explanation is that your electrical panel is overloaded!
When you're ready to schedule your electrical panel upgrade in Brentwood, TN, contact Covenant Heating and Cooling!