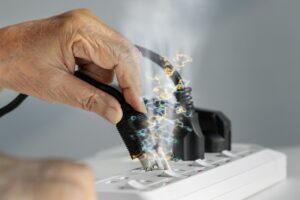 New Year's resolutions often have to do with personal health with exercising more and eating less often on the top of the list. When it comes to personal safety, electrical safety in the home is one that most people spend very little time thinking about.
Every home has an electrical system with the potential to cause electric shock, fires, injuries, and even death. In fact, according to the National Fire Protection Association (NFPA), 50,000 fires are caused by faulty electrical systems in US homes every year.
So why not make some resolutions to help ensure your home's safety for you and your family? Here are 4 resolutions to make for your home's electrical system in the New Year.
Resolution #1: I resolve to have a whole-house surge protector installed.
The average Brentwood, TN homeowner may not realize just how powerful and devastating a power surge can be—and they come at random! There is no way to predict or prevent them. Unfortunately, power strips like the kind you find at the hardware store can only handle so much. A power strip can do more harm than good if you're plugging too many things into an outdated electrical system.
Leaving your home unprotected from power surges could mean you end up with damaged electronics and appliances that cost a small fortune to replace. This New Year, consider getting a whole home surge protection system installed by professional electricians like the ones on our team.
Resolution #2: I resolve to inspect and replace my extension cords.
Extension cords are often forgotten once they're placed behind the bed or the sofa. But it's important to examine your home's extension cords every once in a while. On the other hand, if you find yourself frequently needing to place extension cords in order to have enough outlets for daily life, it's probably time to think about hiring a professional electrician to install additional outlets in your home..
Resolution #3: I resolve to reset my ground fault circuit interrupter (GFCI) outlets.
These outlets can be found in moisture-prone areas of your home such as a kitchen or bathroom. They usually have the words "test" and "resent" on them. To check them, all you need to do is press the test/reset button and make sure the outlets trip and reset accordingly. If they are malfunctioning, schedule service with us, and we'll replace them.
Resolution #4: I resolve to test my smoke alarms and carbon monoxide detectors.
When was the last time you checked your smoke alarms and carbon monoxide detectors? These should be checked on a regular basis to make sure they're working properly. Smoke alarms need to be replaced every 10 years. CO detectors usually need to be replaced every 5-7 years. This info can be found in the user manual.
As our motto states, we are "Dedicated to the Promise of Serving You" and that means ensuring your safety by providing the highest quality electrical services performed by trained technicians who stay up-to-date on building and safety codes.
At Covenant Heating and Cooling, we are dedicated to the promise of serving you. Contact us today!