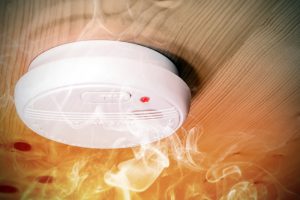 When was the last time you checked your smoke alarms to make sure they were working correctly? How about your home's carbon monoxide detector? These home systems are essential to your family's safety. However, once they're installed, they're often an afterthought. 
Although many detectors are installed with low battery alarms that'll make an annoying chirping noise when the battery is low, some homeowners will simply remove them and set them aside until a battery can be found.
But these safety devices should not be ignored. According to the National Fire Protection Association (NFPA), 3 out of 5 home fire deaths occur in homes that lack smoke detectors or where the smoke alarms didn't work.
If your home has a gas line for cooking or a gas furnace, carbon monoxide leaks can be just as dangerous. According to the CDC, 500 people die every year from carbon monoxide poisoning, deaths that could've been unavoided.
Let's go over the importance of checking and maintaining your home's smoke and carbon monoxide detectors.
How to Check Your Smoke and CO Detectors
Test your smoke detectors on a regular basis. If they're battery-operated, change the batteries at least every year. You can associate it with a holiday such as New Year's Day or the first day of spring to remind you.
Carbon monoxide detector batteries need to be changed out twice as often: every 6 months. Doing so on the same day you set your clocks back and forward is a great reminder. Check the detectors for loose parts or any dust or dirt and clean it out.
In the state of Tennessee, smoke detectors are required in every bedroom and outside of each separate sleeping area. The detector must be installed on the ceiling or wall (because smoke rises) and it's advised that each living area and hallway also have a smoke detector.
It's also a good idea to have a smoke detector installed in a garage. Heat detectors are an option for places such as the kitchen and the garage. These respond to heat instead of smoke which means they can be installed in kitchens without getting false alarms.
The Lifespan of Smoke and Carbon Monoxide Detectors
Even when you're vigilant about changing batteries, these safety systems have limited lifespans and will need to be replaced eventually.
Smoke alarms need to be replaced every 10 years. If you're not sure how old your smoke alarm is, there should be a label on it stating when it was made. If it doesn't have a label, it's old and needs to be replaced. It's recommended that carbon monoxide detectors be replaced every 5 years.
Put Your Family's Safety First
Smoke and CO detectors are not "set it and forget it" devices. The best way to make sure that your smoke and carbon monoxide detection systems will function as they should is by having them hardwired into your electrical system which is a service we provide.
You can turn to the team at Covenant Heating and Cooling to accurately and safely conduct a smoke detector installation or replacement. It's best to not gamble with hiring an amateur electrician or an inexperienced handyman for such an important job.
Covenant Heating and Cooling is your trusted resource for CO and smoke detector installation in Brentwood, TN. We are "Dedicated to the Promise of Serving You!" Contact us today.