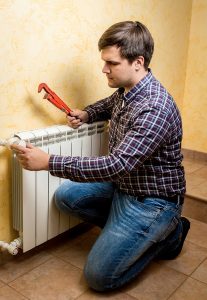 Temperatures in our area are certainly still cold enough for the daily use of our heating systems. But soon enough, spring will be here and as we all know, that warmer weather can come in fast and hard, leaving us quickly switching from using our heating systems every day to using our cooling systems instead.
Therefore, if you have any Nashville, TN heating repair needs as we edge closer toward the end of winter, you may be tempted to put them off. After all, now is the time to focus on air conditioning maintenance right? Well, yes, but… that certainly doesn't mean you should neglect heating repair needs—no matter how late in the heating season it may be!
How to Tell if You Need Heater Repairs
Sure, we tell you to take care of heating repairs ASAP, but what if you don't even know you have repair needs? Understandable question! We've gone ahead and shared some indicators, below, that will tell you your heater deserves some professional attention.
It's making loud and unfamiliar noises such as whining, banging, or groaning.
The heat isn't coming through, even though you keep turning the thermostat up.
Your utility bills are higher than average, despite comparable use to last year.
Your gas-powered furnace's pilot light is burning yellow.
Your furnace is struggling to turn on or stay on.
Your furnace keeps running without shutting off.
What Causes Heater Malfunctions?
There are many potential reasons that your heater might malfunction, particularly if you didn't have maintenance done before the season began. First off, you might have a problem with your thermostat, and not actually your heater at all. The good news is that this is probably a much more affordable problem to fix, for you.
The bad news is a thermostat issue means your air conditioner will be impacted too — which is why it's best to address this issue ASAP. After all, this is one HVAC component you need year round.
What about other potential heating issues? You could have leaky or damaged ductwork, a clogged air filter (you should be changing yours every 1-3 months to protect the inside components of your system), or even an electrical malfunction in the heater's mechanical system. Neglecting or delaying these repairs can cause them to become worse—maybe even dangerous.
Prevention Is Key
As we mentioned above, maintenance is the primary way to prevent heating repair needs. This service should be performed once a year, twice a year if you have a heat pump. During this tune-up, our pros will fully inspect and clean your heater, adjusting necessary components and alerting you to any repair needs that exist.
This will ensure that your heater runs as efficiently and effectively as it should, during its entire service life. And addressing small repair needs now will help you avoid a bigger and potentially more expensive emergency later. If you've been told you do need heating repairs, don't hesitate—let us schedule that for you right away!
At Covenant Heating and Cooling, we are "Dedicated to the Promise of Serving You!" Contact us today for exceptional HVAC services.