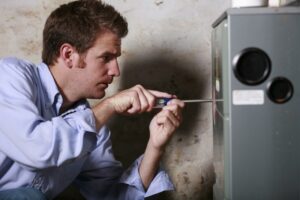 Winter may seem like it's lasting exceptionally longer than usual, but soon enough temperatures will warm and we'll be ready to turn to our air conditioners for reliable service.
In the meantime, you're still getting quite a bit of use out of your heater. Do you know if it will last until you don't need it anymore for the season? The best way to ensure its efficient and effective operation is through heating maintenance. If you didn't schedule this last fall, now is the time! Unless your heater is broken down beyond repair, it's never too late to get this service done.
But even with maintenance, it's possible that you could have heater repair needs. How can you tell? By watching for the following signs of disrepair.
Strange Sounds
If you are using a forced-air heater like a furnace or a heat pump, you're going to hear some noise coming from it. This can include a slight rattling of the ductwork as the air flows through it, and the rush of air coming through your vents. There are other noises you'll probably get used to as well.
What you should pay attention to, however, are sounds that you've never heard coming from your heater, coming through now. This can be anything from clanging and banging, to hissing or clicking. These are signs of problems that range in severity, but the best thing you can to do mitigate the damage is give our team a call.
Unusual Smells
At the beginning of the heating season, it's relatively normal to detect a faint burning odor. This is typically indicative of dust burning off the jets and coils of your furnace, and the smell will come through the vents. But the thing is, it's the end of the heating season now. If you smell acrid or burning odors this time of year coming from your heater, it's time to call for repairs right away.
The System Isn't Warming You Enough
Your heating system has one job—to heat your home effectively. If it's not doing though, it's time to call for repairs. In a furnace, this can signal not only a frustrating problem, but a potentially harmful one as well—trapped heat can cause a number of problems from a burnt out motor to damage to important components like the heat exchanger.
Whether it's something serious or more minor like damaged ductwork, you'll want to take care of the issue ASAP so you can still use your furnace, and so you don't have to worry about your AC operation when spring rolls around.
Higher Than Average Energy Bills
It makes sense that your energy bills will fluctuate according to how much and how often you use your HVAC systems. But if you're paying more for your energy bills than you were this same time last year, or more than your neighbors are paying, it's a sign that something is causing your heating system to work inefficiently.
Contact Covenant Heating and Cooling for reliable heating repair in Brentwood, TN. We are "Dedicated to the Promise of Serving You"!