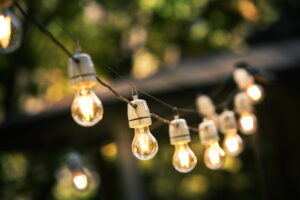 While wintertime is still here for a bit, soon enough spring and summer will be here. If you've been considering upgrading your outdoor lighting or your backyard setup, now is the time to start thinking about what you want!
With the help of our professionals, you can create the ideal outdoor space for recreation, safety, security, and more. Read on as we dive into how to choose your outdoor lighting and what the benefits of the perfect outdoor lighting setup are. Then, call us when you're ready for professional outdoor lighting installation!
Multipurpose Outdoor Lighting
Outdoor lighting is about much more than simply aesthetics. That is of course an important part of selecting lighting, but your outdoor lighting can have so many purposes, such as:
Security
Security lights aren't traditionally the most visually aesthetic lights, however, they serve a very important purpose. They keep your home safe by keeping it well-lit and less likely to be a target for burglary or vandalism.
One of the biggest mistakes homeowners make is not having lighting outdoors to deter things like this. You can live in the safest neighborhood, but if your home is dark and it looks like nobody is around, it means that someone can sneak around without being easily detected.
Safety
Do you have a nicely lit porchlight? This adds safety and security to your home. Plus it helps your porch and walkway be more visible, which is great for when you have guests over or if a neighbor drops by, so that you don't risk them tripping. This is especially important if you have any elderly household members or any small children.
Plus, you can select decorative and intricate designs for your porchlight to go ahead and bring some aesthetics in.
Recreation
When you have the right amount of lighting, you can enjoy your time outdoors more. If you have a deck this means you can have a cookout that goes well into the night. You can make these lights decorative and functional all at once, appealing to not only your sense of style, but curb appeal if you ever plan to sell your home in the future.
Atmosphere
Last but not least, there's atmosphere. There are a number of different types of outdoor lighting to choose from that match your decorative style. You could select a nautical style hanging lantern, for instance, or streetlight-type lights out in your yard, or any other style.
Your lighting can highlight an area of your home, maybe landscaping or trees that you want to show off, or lawn decorations. There really is no end to the possibilities! Just be sure that you trust a pro for the installation!
We are not only knowledgeable about building codes and electrical wiring regulations, but we can also help you determine if your current electrical panel can handle the extra demand. Please reach out to us with any questions.
To find a reliable electrician in Goodlettsville, TN for your outdoor lighting needs, contact Covenant Heating and Cooling. We are "Dedicated to the Promise of Serving You"!