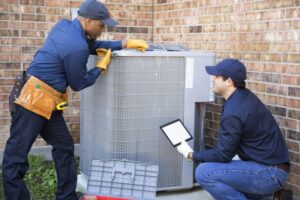 When your home needs AC replacement or heating replacement, how do you know what to look for in an HVAC contractor? Many homeowners know that they should choose a company whose technicians are licensed and insured. But what other qualifications should you look for in your search for an HVAC replacement?
You may have heard of the terms "NATE certified" and "EPA certified" or come across them in your search. When we say we strongly encourage you to hire a company with these designations, we're not just doing so because our technicians are NATE- and EPA-certified. These designations really are surefire signs that you've found a reputable, knowledgeable HVAC contractor and here's why.
What Is NATE Certification?
The largest non-profit HVAC organization in the US is the North American Technician Excellence organization, or NATE for short. According to their website, NATE-certified technicians have demonstrated their knowledge of today's increasingly sophisticated heating and cooling systems by passing a nationally recognized test developed and supported by all segments of the heating, ventilation, and air conditioning industry.
Consumers can rest assured that with a NATE-certified technician, they're getting the best installation and service for maximum comfort and economy in their heating and cooling systems. In fact, the goal of NATE is to instill confidence in homeowners about their technician's expertise and skill level.
What Is Required for NATE Certification?
Technicians who become NATE-certified need to pass a rigorous series of exams. In addition, they must have 2 years of HVAC experience in the field. The exams aren't easy to pass. They're created by a committee of HVAC experts who draw from their real-world experiences to come up with real-world questions for the exams. These exams must be passed with a minimum score of 70%.
NATE certification isn't a one-and-done deal. Every 2 years, technicians must retake a specialty exam and complete continuing education. This ensures that their skills are kept up-to-date in the ever-changing, technologically advanced world of HVAC. By hiring a NATE-certified technician, you can rest assured that you're hiring someone with HVAC expertise and real-world experience.
What Is EPA Certification?
Are you concerned about eco-friendly installations and the safe and proper handling of HVAC chemicals? EPA stands for the Environmental Protection Agency and EPA certification means you're hiring someone with demonstrated knowledge about the rules and regulations for the safe and proper handling and disposal of refrigerant and chemicals used in AC systems.
What's Required for EPA Certification and Why Is It Important?
The requirements for earning EPA certification depend on the certification type, but all require a core test and one specific certification test. The core test addresses the general principles of HVAC and the reasons for industry regulations.
The refrigerant and chemicals used in heat pumps and air conditioners are hazardous not just to the environment, but to your health as well. You don't want just anyone handling these chemicals when they're installing, repairing, or servicing your AC or heat pump. You can also rest assured that they'll safely be disposed of according to EPA rules and regulations.
Covenant Heating and Cooling is your trusted resource for HVAC replacement for your Brentwood, TN home. We are "Dedicated to the Promise of Serving You!" Contact us today.