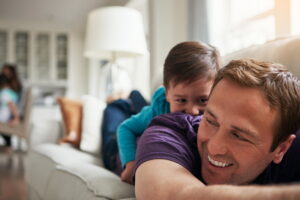 We have a number of customers ask us if whole-house air purification is worth it. Our short answer is, "yes!" But of course, we will elaborate below.
Over the past year, many homeowners have struggled a bit with deciding the best ways to stay healthy inside their own homes. Indoor air quality has been a bit of a "buzzword" so to speak. But indoor air quality is actually really important. And your indoor air quality can be worse than the quality of the air outside if you don't have the right IAQ solutions in place.
While no indoor air quality product can guarantee that things like virus transmission will never happen, but using the right product or service can definitely reduce the risks involved with poor indoor air quality. Read on as we uncover the power of whole-house air purification.
First, Why Your HVAC Air Filter Is Not Enough
There is a common misconception among homeowners that the air filter that comes standard with their HVAC system is in place to protect their indoor air quality, but this isn't actually the case. While these air filters certainly don't hurt indoor air quality, their purpose is to protect your central HVAC systems themselves from dirt, dust, and other debris that can get inside and harm the components.
They draw in these particles with the warm air from your home, and should be swapped out every 1-3 months depending on the type of air filter and the level of contaminants in your home. Then to actually protect your IAQ, you should have a whole-house air purifier installed.
What Makes a Whole-House Air Purifier Unique?
When most people hear the term "air purifier," they might envision a little robot-type appliance that sits on top of a dresser or even rests on the floor. These are types of portable air purifiers, and while they are typically useful for a room or two, or even in a small studio apartment, they're not sufficient with an entire home with multiple rooms or more than one story.
It could do you well to consider the installation of a whole-house electronic air purifier and/or a whole-house UV air purifier, each of which has its own benefits. The electronic air purifier draws dirt, dust, viral particles, allergens, and other contaminants from the air to be cleaned out later, while the UV air purifier can be installed directly into your ductwork to kill the source of viruses and bacteria before they even have the chance to enter your indoor air.
Cost-Efficiency and Convenience
The two biggest benefits of investing in a whole-house air purifier are the cost-efficiency and convenience of doing so. As we mentioned above, portable air purifiers are really only effective for one or two rooms. So, what if you have a 4-bedroom home? You'll need a portable system for each bedroom, your kitchen, and your living room to get comprehensive coverage.
With a whole-house system though, you don't need to worry about all these individual systems as you'll just have one installed in your ductwork, which can be maintained by our professionals easily and conveniently.
For professional Mt. Juliet, TN air purifier services, contact Covenant Heating and Cooling. We are "Dedicated to the Promise of Serving You."