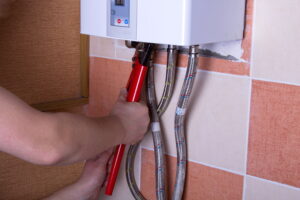 If there is any appliance in the average American home that could be considered the "unsung hero" of the household, it's the water heater. Think about it—you use yours every day, but do you really think about it much? You likely don't, until something goes wrong. And when something does go wrong, you probably rush to find a solution, even if it's not the best solution.
Oftentimes, water heater problems can be remedied with professional repair, but if your water heater is nearing a couple decades old, it may be time to replace. When that time comes, you have options! You don't have to stick with the same size storage tank, nor do you have to stick with a storage tank type water heater at all. More and more homeowners are going tankless these days.
Is it really the superior choice, though? Well, it depends. Read on as we uncover the pros and cons of each type of water heater.
Tank Water Heaters
As we alluded to above, the storage tank water heater is typically the traditional choice among homeowners—they store a supply of water in a tank and maintain it at a steady temperature each day.
Fresh, cold water enters the bottom of the tank, and this is heated, and rises to the top to be used when a hot water tap or plumbing appliance is turned on.
Pros
The installation costs are low for a storage tank water heater.
Replacing a tank water heater is a pretty simple process for our water heater professionals.
Tank water heaters have many fuel options—electricity, gas, or oil.
Cons
Standby heat loss can occur, meaning hot water that's not used during the day is wasted.
If there's too much demand, the hot water inside the tank can run out.
Storage tanks can be pretty big and bulky to find a place for in your home.
Tank water heaters have more components than tankless systems, which means more repair and maintenance needs.
Tankless Water Heaters
Also known as on-demand water heaters, these systems deliver hot water to your taps only when there's a demand for it. A tankless water heater has a metal box that contains heat exchangers, that can be mounted on a wall. The main water line leads into the system, and when a hot water tap is turned on in the home, the heat exchangers come on and heat up the water. This is how the system gets the "on-demand" part of its name.
Pros
You'll never "run out" of hot water.
There is no risk of standby heat loss, so tankless systems are more energy efficient.
Without a storage tank, tankless systems save a lot of space.
You have the ability to select very precise temperature settings.
Cons
Tankless systems are more expensive to install.
Most models require electricity, which is a more expensive fuel source than natural gas.
A tankless system can be overwhelmed if too many plumbing appliances are on at the same time, demanding hot water.
The fact of the matter is, every home is different. We'd love the opportunity to talk to you more about your options and help you make an educated decision about what's best for your specific needs.
Contact Covenant Heating and Cooling today for quality Nashville, TN water heater services. We are "Dedicated to the Promise of Serving You"!