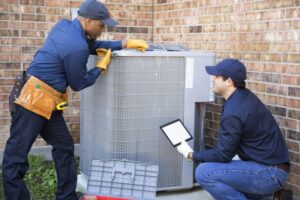 Summer is around the corner. When your home starts to get hot you want your AC unit to work right every time to cool down your home or business. Air conditioning makes your space comfortable, but that's not the most important factor. A cool space also ensures that all of your belongings are well-kept and don't sustain damage from heat and humidity.
Even if your air conditioner runs and cools, do you know if it is working efficiently? There are ways that you can help your AC unit run efficiently. This leads to less stress on your unit and a potentially lower power bill thanks to less energy use. 
Invest in AC Maintenance
If your air conditioner is cooling your home or business, maintenance may not cross your mind. Why fix something if it isn't broken? Well, there are many reasons why! Your air conditioner doesn't suddenly stop working for no reason. A small part may go bad first, snowballing into a much larger problem before you even realize anything is wrong.
With regular maintenance, an air conditioning professional can identify issues early on and make repairs. Regular repairs can also lengthen the life of your AC unit. Replacing parts when they wear out can help your entire unit run more efficiently. After all, each piece plays an important role in
Schedule a Home Energy Audit
Our team can inspect more than just your AC unit. A home energy audit means that we look at your entire system — from the ductwork and seals to windows and attic vents. If you notice your air conditioner working less efficiently over time there may be other factors that you need to address. When you maintain your entire home, your air conditioner is able to work better for longer and cool your home more efficiently.
Turn on Ceiling Fans
Your ceiling fan moves air around the room. While it cannot cool the air inside your home, it can create the sensation of a breeze that makes your home feel cooler. This may allow you to set your AC unit to a higher temperature while still feeling as cool as if you lowered the temperature. The same rule applies in the winter months, too. Change the settings on your ceiling fan so that blades spin in the other direction to circulate warm air around your rooms.
Change the Air Filter Regularly
You may think that an air filter helps maintain your indoor air quality. This isn't completely accurate. Your air conditioning filter is actually designed to protect your AC unit from dust and dirt so it doesn't get clogged. When you change your air filter every month you ensure that your AC unit works at its peak performance.
Contact Covenant Heating and Cooling for reliable air conditioning service in Franklin, TN. We are "Dedicated to the Promise of Serving You!"