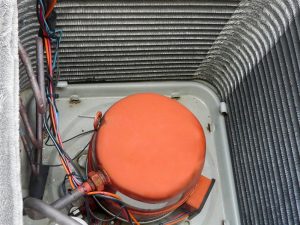 Throughout the years, there are a wide range of problems that can impact your air conditioner. This is particularly true in our climate, where are air conditioners have to work hard on a consistent basis to keep homeowners cool and comfortable. You may find yourself facing a refrigerant leak at some point, replacing capacitors eventually, and may even have to deal with damaged ductwork. Fortunately, these are all fairly expected and manageable, so long as you keep up on your annual maintenance sessions.
If you don't, however, or if you just generally don't take good care of your air conditioner, you could find yourself facing a failed compressor.
The compressor–the heart of your air conditioning system–is the most expensive component in your air conditioner. While in most cases when a component breaks down you just replace it, in the case of a compressor you may be better off replacing the whole entire system. Wondering why? Read on!
Looking At Your Air Conditioner As a Whole
As we mentioned above, the compressor of your air conditioner is the most costly component to replace, and for this reason we'll typically recommend just upgrading the entire air conditioner. Before you make any decisions, however, we recommend working with a trustworthy HVAC professional who will steer you the right way–the last thing you need is to replace an air conditioner years before its time or your budget was ready for it!
Compressor problems are actually one of the most commonly misdagnosed problems there is.
However, if you know for sure that you're dealing with a failed or struggling compressor, then the first step you should take is to check your warranty. If your compressor is still under warranty–which is likely in an air conditioner under a decade old–then you won't need to pay to replace it. You'll only need to pay for the labor to do so.
Of course if this is the case, it's worth replacing the compressor as you can probably get several more years of use out of your air conditioner. But let's say a compressor breaks down outside of the warranty window, what then? Then it's time to consider a full system replacement.
There are many factors to consider here, like your budget. However, ultimately we'd recommend replacing the system rather than just the compressor. Putting a brand new compressor in a struggling air conditioner could lead you to further repair or replacement needs very shortly down the road, anyway.
"How Do I Know If I Have Compressor Problems?"
So maybe your compressor hasn't failed yet, but you suspect something is amiss. How do you know if the compressor is to blame? Well, if you're not feeling enough cooled air coming through your vents, that is an indication. Also, if you hear hissing or gurgling associated with a refrigerant leak, that's a sure sign that your compressor is struggling.
If you ever suspect any problems with your AC system, the best thing you can do is call on our pros!
For quality air conditioning repair in Brentwood, TN, contact Covenant Heating and Cooling: "Dedicated to the Promise of Serving You."