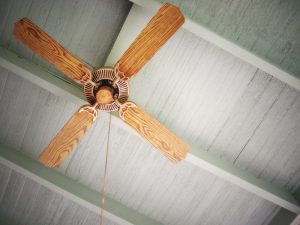 Ceiling fans are often talked about this time of year—and we'll get to why we're talking about them now later in this post—but something that a lot of homeowners don't really realize is that celing fans do not actually cool the air in the room where they're running.
In the summertime, individuals often leave their ceiling fans on all day, only to find that the room they come home to isn't any cooler than it was when they left. It may feel less stuffy than other parts of the home, but this feeling can be achieved within 5 minutes of turning on the fan, versus leaving it on all day long.
You may be wondering about a couple things by this point:
Is there a point to using your ceiling fans?
Really, why are we talking about this in the wintertime?
Bear with us! We'll get there.
How Ceiling Fans Operate
As we mentioned above, a ceiling fan doesn't actually cool the air around it. Instead, it moves air around. Basically, ceiling fans create a breeze. So, when used in combination with an air conditioning system, they can help the room they're in feel cooler, and also help with air conditioning efficiency.
However, letting your ceiling fan run all day, especially when nobody is home, can be more wasteful than helpful. Since it doesn't actually cool or heat the air in the room, you're essentially running an electric device for no reason.
Another factor to consider is that when you run an electric device for that long, the motor heats up. So, you may actually be adding heat to the room. Therefore, you'll have the opposite effect of what you were going for, since you'll be raising the temperature of the room.
Ceiling Fans: What's the Point?
So, the primary purpose of a ceiling fan is to cool you off, but not by operating on its own. Sure, on a mild day you can use it to create a breeze, but its actual purpose is to contribute to greater air conditioning efficiency.
No, a fan won't decrease the temperature in any giving room, but it will circulate the cool air coming out of your AC system, therefore allowing you to turn the temperature up by as much as 10 degrees, saving you a significant amount of money off of your electric bill as a result.
In addition, ceiling fans provide versatility to your home. They can be put in just about any room—bedrooms, kitchens, screened-in porches, and more. These appliances are functional and in most cases can be very aesthetically appealing.
Wintertime Comfort
We told you we'd get to why we're talking about ceiling fans now. Your ceiling fans can help you save on your heating costs!
When you switch the fan into reverse, using a button near the center of the fan, it pulls the hot air downward, creating a warmer breeze, and allowing you to adjust the thermostat so your heater can run with less energy usage. This efficiency will save you money from month to month.
Ceiling fans are a great way to enhance the comfort of your home, year-round. Don't forget you should also invest in HVAC maintenance for true energy efficiency—the good news is you can reach out to our team for that and your electrical needs!
When you are looking for reliable electricians in Franklin, TN, contact Covenant Heating and Cooling—where we are "Dedicated to the Promise of Serving You!"