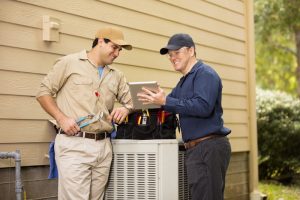 It's the time of year where older heating systems start to struggle—after all they've been working hard all season. If yours wasn't properly maintained, or even simply if it's aged to the point that it's having trouble keeping up with demand, it might be time for you to call for repairs.
But who should you call? Perhaps that handyman who lives down the street? Or maybe you can watch an online video and conduct HVAC repairs on your own!
We really don't recommend either of these options. Not only could you wind up doing more harm than good to the system itself, but you could injure yourself or put your household in danger. We understand the urgency that comes with needing heating repairs in the middle of winter, but you'd do well to do your research and choose the right contractor for your HVAC repairs. What should you look for? Read on!
Experience
As we alluded to above, some homeowners think it's okay to call in any handyman with a little experience on electric and mechanical devices to service a heater. But this is likely only going to end in a headache. Complex heating equipment is difficult for even the most skilled of handy folks, and you'll probably need to pay more to call in someone who could have done the job properly in the first place.
Besides that, your safety comes first. The only technicians who can ensure that safety are those who have been comprehensively trained. You'll certainly get that from a company like ours.
Sales and Service
Sure, you need repairs. But if a contractor comes to your home to conduct repairs and doesn't have the authority or resources to replace a system that could really use an upgrade, you may end up wasting money on repairs that aren't going to help your HVAC system last that much longer, anyway.
When you work with a team that handles both sales and service, you'll get help with making an informed decision about what you should do with your failing system. On that note, it's also helpful to work with a company that provides electrical and indoor air quality services as well.
Even gas-powered heaters have electrical components, and hooking everything up correct during installation or making sure your HVAC repairs are effective require extensive knowledge of those components. Plus, your indoor air quality can be affected by your HVAC system—and a knowledgeable contractor will help you pair up the right IAQ solutions with your HVAC system if needed.
Focus on Energy Savings
When you're hiring an HVAC contractor for your repair work, you want a company that has your best interests in mind. In our industry, this means finding professionals who care about your long-term comfort and savings—not just someone interested in making a sale.
This means they'll look at how you can conserve the most energy, and subsequently save money as a result. This is something you simply cannot expect from an amateur.
When you need professional services for your HVAC in Franklin, TN, look no further than Covenant Heating and Cooling. We are "Dedicated to the Promise of Serving You!"