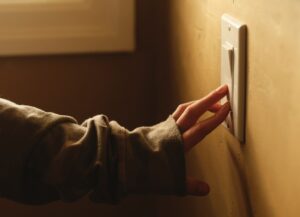 Also referred to as the circuit breaker panel, your home's electrical panel is tasked with controlling your entire electrical system. Incoming electricity is routed to the different circuits needed for the various appliances and electrical equipment, including lighting, and the circuit breakers are designed to shut off circuits if there's a voltage overload.
If your electrical panel is aging, or even worse if you're still using a fuse box, then there's a good chance you're overdue for an upgraded electrical panel. Most panels can last from 25-40 years before replacing, but this also depends on how much the electrical demand of your household has increased, and if you ever experience any problems with your electrical system.
Read on as we uncover situations that might indicate it's time to call us for an upgrade.
You Still Have a Fuse Box
It's rare these days to not have least upgraded from a fuse box to an electrical circuit panel. However, if your house was built prior to 1960, it is possible. Instead of tripping a circuit breaker when there is excess electrical voltage, one of the fuses burns out to stop the flow of electricity.
The thing is though, this isn't really that safe, particularly with the advanced electronics and technology that we're plugging into our homes these days. If your home still uses a fuse box, it's time for an upgrade.
Your Holiday Lights Short-Circuited
This is the time of year that many homeowners start putting up holiday lights and decorations, inside and out. This is also the time of year that homeowners find their circuits shorting out because of those lights. You can try plugging them in elsewhere and seeing if that allows you to use your holiday lights… but at the end of the day this is a huge sign that there is too much voltage going to your electrical panel, and it's time for an upgrade.
Your Home Is Old!
Let's say you do have an electrical panel, but you're pretty sure it's been the same one for the last 30 years. While any worn-down electrical appliance can become a hazard, it's not necessarily safety that's a concern here–it's your home's electrical capacity.
Electrical panels that are over a few decades old can only manage about 60-100 amps, while newer electrical panels can handle up to 200, which makes a lot more sense with the rise in electrical demand in most homes, due to things like computers, charging stations, and just an overall increased use of electronics.
Your Circuit Breakers Are Constantly Tripping
We can probably accurately guess that you'd rather not make regular visits to your electrical panel each week just to reset tripped circuit breakers, right? If this is happening with just a single circuit, then it's probably an issue with whatever appliance is hooked up to it, or wiring issues. You will need electrical repairs in this case, but if different circuits are tripping, then it's possible that the panel itself is worn out, and no longer able to meet your home's electrical demands.
When you're in need of a professional electrician in Franklin, TN, look no further than Covenant Heating and Cooling. Contact us today!