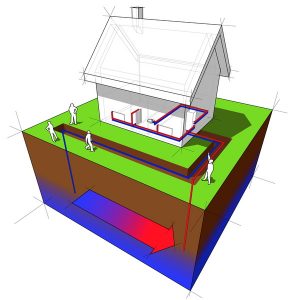 One of the numerous Nashville, TN HVAC services we provide is the installation of geothermal heating and cooling systems. These systems operate on heat pump technology, but rather than transferring heat from the air either inside your home or from outside, geothermal heat pumps use the energy of the earth, which remains at a relatively stable temperature.
Understanding how a geothermal system works is just the beginning. We'd like to share the benefits of such a system with you, to help you determine whether or not a geothermal installation is right for you. These types of installs are typically done with new construction projects, as they do run underground. But for many homes, these systems can be retrofitted. This will affect the cost of the installation, however, what you save with a geothermal system can well than make up for this.
Now, onto how a geothermal system will benefit you!
Geothermal Systems Are Extremely Safe
When it comes to heating your home, a geothermal system is among the safest options available on the market today. Geothermal heat pumps burn no natural gas or heating oil, and their indoor components do not become hot during operation. Other traditional gas-powered heaters are built with safety in mind, of course, however the risk is still present.
Geothermal Systems Are Quiet
Conventional air conditioners, heat pump systems, furnaces, and boilers each create a certain level of noise pollution within a home. When it comes to a heating and cooling system that runs quietly, geothermal beats out the others. Of course, it doesn't run completely noise-free—no system does—but most of the time you won't even notice it's on, except of course for the comfort it provides.
You Will Save Money
As we mentioned above, using a geothermal system will more than make up for the initial cost of the system. In fact, according to the U.S. Department of Energy, a geothermal heating and cooling system works 3-6 times more efficiently than a conventional heat pump.
The reason for this is due to the stable temperature of the earth below the frost line, which the geothermal heat pump access for heat exchange. The system won't have to struggle with either extracting sufficient heat during the summer or depositing in in the wintertime. And you'll see the savings each and every year.
Your System Will Last a Long Time
So long as you have your geothermal system properly maintained, the interior components can typically endure for 20+ years, while the underground loops can last as many as 50 years! You'll have decades of savings on your energy bills, and a system you can rely on for comfort all year long.
Geothermal Systems Are Eco-Friendly
Geothermal systems create fewer harmful greenhouse gas emissions than standard heat pumps, conventional air conditioners, or furnaces. This makes them the environmentally friendly choice for your heating and cooling needs.
At Covenant Heating and Cooling, we are "Dedicated to the Promise of Serving You!" Contact us today to learn more about the advantages of geothermal energy, and learn why our customers keep coming back.