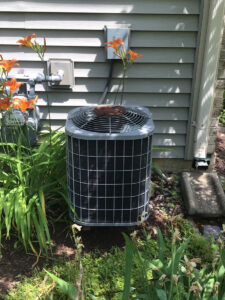 While we may not get the harsh blizzard conditions that they do in other parts of the country, we do still have winter–and with that we also have below-freezing temperatures some nights! So when we're asked if homeowners should be winterizing their air conditioners, the answer is, "probably!" Read on to learn what this means.
Chances are, you're looking forward to weather cooling so you don' thave to use your air conditioner as much. But that doesn't mean you should forget about it altogether! Just because you won't need it this fall and winter doesn't mean you can neglect it for a while. Read on as we uncover some steps you can take towards preparing your AC system for winter, so you can rely on it working well for you next spring too.
First, Address Repair Needs
We understand just how tempting it can be to wait to manage your AC repair needs. Nobody wants to spend extra money when they don't necessarily need to. However, by delaying your air conditioner repair needs, you could actually find yourself paying more as those repair needs snowball and turn into a complete AC breakdown. Additionally, your AC repairs might impact your heater too, particularly if you have any problems with the ductwork or the thermostat that controls both systems.
Next, Turn off the Air Conditioner
No, we don't just mean that you should turn the thermostat to heating mode and call it a day. When the chillier weather is here for good, it's time to turn your air conditioner off, all the way. DOn't just simply stop using it–go to your AC unit's dedicate power switch, which is located in a box near the outdoor unit–and flip it to "off."
This will stop your cooling system from accidentally cycling on if we have a heat wave. If that occurs, water from the rain or even thawing ice can get drawn into your unit and damage the entire system.
And Now, Clean the Outdoor Unit
The outdoor unit of your air conditioning system is known as the condensing unit. It can collect some debris throughout the summer. This can include twigs, leaves, and branches from trees, lawn mulch, and more. Ensure this is all brushed off, and then use a lower pressure hose to wash the unit off. Be sure if you do this that the unit needs to be completely dry before the next and final step.
The Final Step: Cover Your Air Conditioner
Once you've followed the above steps and your system has dried off, it's time to cover it. You can purchase a waterproof air conditioner cover at the hardware store or even online. Or you can use a tarp that is secured tightly with bungee cords. This will keep your air conditioner from accumulating unexpected damage from inclement weather this fall and winter!
Covenant Heating and Cooling is your trusted resource for Brentwood, TN air conditioning service and much more. "Dedicated to the Promise of Serving You!" Contact us today.